How "grand" was the "Grand Bargain" ?
Greetings Helvetia friends,
Things have been moving so quickly since our last message to you that we've hardly had time to breathe – much less send out an update. Now that we've had some time to reflect, we'd like to share our impressions of recent events.
We'll give you the short version first, then provide more details. Take a deep breath; here we go with…
The short version
House Bill 4078 was introduced in early February, and most everyone hated it. Rep. Clem started an effort to resolve the reserves issue, which still drew criticism, especially from Washington County and Metro. But then the Court of Appeals slapped down Washington County's reserves designations. Facing the likelihood of starting over, Washington County and Metro suddenly became a lot more interested in negotiating. Reps. Clem and Unger met with governments, developers, and farmers to work out a plan – the "Grand Bargain" – that converts almost 2500 acres of urban reserves to rural reserves.
This is a victory for Washington County farmland in general, but not so much north of US 26. A lot of land in "western Helvetia" was protected, but almost as much land near Cornelius Pass Road was changed from rural to urban as a gift to high-powered development interests, whose support was needed to gain the bill's passage. The biggest loser was citizen involvement.
The Legislature intervened because our County leadership was caught breaking the law, not because our land use system failed. The "fix" is to change our leaders, and we have an important opportunity to do so on May 20, when elections will be held for three open positions on the Washington County Board of Commissioners. See below to learn about three candidates who are running to change the fundamental direction of the Board: Allen Amabisca, Elizabeth Furse, and Greg Malinowski.
OK, exhale. And please read on for the details.
HB 4078 initially angered everyone…
As you already know, on February 4, the State Legislature's House Committee on Rural Communities held hearings on a bill, HB 4078, that would have validated the 2011 Metro UGB expansion, thereby also invalidating any appeals of the UGB expansion. Since much of the expansion was onto newly-designated reserves land, it would also have essentially invalidated appeals of the Reserves designations, including ours.
Uproar ensued, and many of you contacted the Committee to object. Shortly thereafter, Representatives Clem and Unger began an effort to redraw the maps to bring some of that farmland back under rural protection.
…but the Court ruling changed everything.
While we were wary of this effort, the dynamics of the conversation changed dramatically on February 20 when the Oregon Court of Appeals reversed Washington County and Metro, saying that the designations were based on "pseudo factors" invented by the County and approved by Metro and LCDC. This ruling validated years of testimony by Save Helvetia farmers and citizen scientists showing exactly how Washington County devised their own system for evaluating farmland, contrary to the law. We applaud the many hours of effective legal work by our attorney Carrie Richter of Garvey Schubert Barer and Mary Kyle McCurdy of 1000 Friends of Oregon.
As a result of the ruling, the politicians who ranted about the legislature taking away local control quickly changed their tune. Seeing that the alternative was to start over with the reserves process, they became a lot more interested in Rep. Clem's and Rep. Unger's efforts, displaying an uncharacteristic willingness to listen. It also became clear to us that a train was leaving the station, and if we wanted to have any say in where it was headed, we'd better get aboard.
After several days of discussions culminating on Sunday, February 23, when we finally invited ourselves to the table*, all parties involved (Washington County, Metro, developers, and farmers) reached consensus on new map designations. The result was an amended version of HB 4078 that was passed by the House on February 28th and by the Senate on March 4th. But the Senate re-christened the bill: instead of a "Grand Bargain," the bill is now known as the "map adjustment consensus bill." That's politi-speak for you!
*We can't resist sharing the scene at the Sunday meeting with you. The large meeting room had tables for the politicians and developers. Save Helvetia representatives were literally sitting on chairs in the corner with our backs to the wall. We were struck by the symbolism. Commissioner Malinoswki came because we had told him what was going on – 600 acres in his district had been converted from rural to urban east of Cornelius Pass Road in exchange for votes, and he was never consulted or made aware of it. When he arrived, he sat in the corner with Save Helvetia – Andy Duyck and Bob Terry were at the table. But since there were already two Commissioners at this non-public meeting, one of them had to go. Andy or Bob decided that it would be Greg. So Greg was told to leave.
Farmland and developers 1, Citizen involvement 0:
A victory for farmland…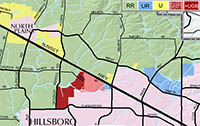 The bill now on its way to the Governor changes about 2500 acres of Washington County farmland from Urban to Rural Reserves and about 900 acres from undesignated to rural (click on image to see the map). The bill protects most, but not all, of "western" Helvetia, changing 600 acres of urban and undesignated farm land to Rural Reserves. 73 acres west of Helvetia Road owned by a developer changed from urban to undesignated. But we were able to limit its future conversion to urban use with a provision in the bill that requires 75% of the land within urban reserves to be utilized before undesignated land can be converted to urban reserve.
…and developers…
However, we were dismayed that the bill also changed the designation of about 100 acres of the Bendemeer area (including 10 acres owned by a developer) and 500 acres of nearby farmland (north of West Union and east of Cornelius Pass Road) to Urban Reserve – without local input. It also let stand the urban designation of the Peterkort property on the east side of 185th.
Why these sudden changes to urban? It became very clear during the discussions that prominent land developers and their attorneys were given a gift in return for helping get the bill passed. This becomes quite apparent if you research who the "gifted" land owners and their attorneys are. Once again we became painfully aware how much power development interests have at the State Legislature.
…while citizen involvement sat on the bench.
While the Save Helvetia Board and Steering Committee generally supports the bill, the most important issue arising during the last few weeks has been the fate of citizen involvement under Oregon's land use laws. Save Helvetia addressed this issue in a letter to the Editor written by John Platt. John's letter uses County documents obtained by Robert Bailey and his research to describe how former Chair Tom Brian and current Chair Andy Duyck "lined up the votes" for the reserves decisions in late 2010 well before any hearings were held. Robert's investigation served as a basis for a letter to Governor Kitzhaber that expresses the Board and Steering Committee's concerns about the citizen involvement problems we encountered while attempting to make our case for farmland protection.
What is clear now is that our battle to protect Oregon farmland will once again involve the Legislature in 2015. The issue will be whether the statewide land use system needs an overhaul – and whether that overhaul will be at the expense of citizen involvement. Land developers will attempt to insulate their dealings from public scrutiny and judicial review.
HB 4078 – not perfect, but better than the alternative
All in all, the bill is a victory for farming, with most of the newly-preserved farmland located south of US 26. Despite all of the press' talk about how Helvetia was saved, the reality is that just about as much land north of US 26 changed from rural to urban (600 acres) as changed from urban to rural or undesignated (600 rural, 73 undesignated). It may seem like a mixed blessing, but the very best Helvetia farmland (with Class I soils) was preserved and protected from Hillsboro's industrial aspirations. All in all, we feel that this is probably the best outcome that could have been achieved, especially given that the alternative would have been having the County re-do the reserves process once again. We all know how that turned out last time.
The land use system is not broken – leadership is the problem
We assert that the land use system is not "broken," as Andy Duyck and State Senators claim. Rather, it's County leadership that needs repair. Washington County chose to develop its own bogus methodology to justify designating the best farmland as urban reserves – and they got busted. We would not be in this situation if Washington County had followed the urban and rural reserves law in SB 1011.
Washington County leaders, starting with former Chair Tom Brian and continuing with current Chair Andy Duyck, marginalized citizen involvement in the reserves process, even lining up the votes before hearings. If we want to change the tone at the County, we need to elect leaders who will include citizens in the decision-making as required by Oregon's Goal 1 and LISTEN to what citizens want, rather than catering to special interests.
It's time to fix the leadership problem in Washington County
The May 20 primary elections will determine the course of our county. We encourage you to visit the web sites of three of our active supporters who are taking on the challenge of changing county leadership:
Allen Amabisca - running for Chair of the Washington County Board of Commissioners, currently held by Andy Duyck.
Allen's web site is: AllenAmabisca.com
Elizabeth Furse - running for District 4 Commissioner, currently held by Bob Terry.
Elizabeth's web site is: ElizabethFurse.com
Greg Malinowski - running for re-election as District 2 Commissioner.
Greg's web site is: GregMalinowski.com
All of these candidates need your help and support. Please contact the campaigns. Spread the word. Host a house party. Donate your time and money.
You can make a difference in Washington County!
Well, that's about it. We hope our lengthy article has increased your understanding of the events surrounding the passage of HB 4078. If you have questions, we encourage you to contact us.
Thank you for reading.
The Save Helvetia Board and Steering Committee